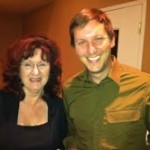 I'm pleased to share that Sue Johnson will receive the Order of Canada for her huge contribution to the field of marriage and family therapy. The Order of Canada is the centrepiece of Canada's honour system and recognizes someone's lifetime outstanding achievement, dedication to the community and service to the nation.
Emotionally Focused Therapy has become one of the most popular models of couples therapy. EFT is recognized as a validated intervention for marital distress acknowledged by the American Psychological Association. Today there are about approximately 40 EFT centres and communities worldwide. I feel very grateful to the Greater Toronto EFT community and more specifically to my supervisors Robin Hellendorn and Robin William Blake for making this training available. They have been bringing Sue Johnson to Toronto and responsible for offering core skills trainings and supervision. The couples I serve have indirectly and directly benefited from their hard work, dedication, and generosity.
Congratulations Sue Johnson! Happy Canada Day!